Hello harusination?
Something this pandemic has stolen from us, is the sense of human interaction engrained in our culture that we used to enjoy…let's be honest we still do but in a limited sense.
It is exciting to see that love birds are still fighting through, and we are here to see love win.
The love story we tell today is of a lovely duo R & P, Pre-Covid. This is a reminder of how easy it was to have a 300pax wedding and one of the concerns you had were how many people could potentially crash your wedding. 😊
Unique fact about this wedding is that it was a military wedding and they BOTH serve in the military. The ladies got to put aside their uniform and glam up for the day and the gentlemen got to show off their military uniform in such an amazing setting.
Ceremony
We expected them to be very strict and well… ''Military'' but they were among the most down to earth, in sync and fun couple we have met. They wanted a simple and chic theme.
For the ceremony area we went with blush floral that brightened up the space effortlessly. The bride's original color of choice was red, but she was to open to exploring (It's important to trust your stylist 😉 😉)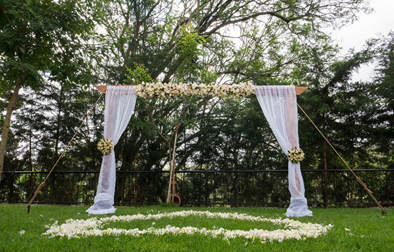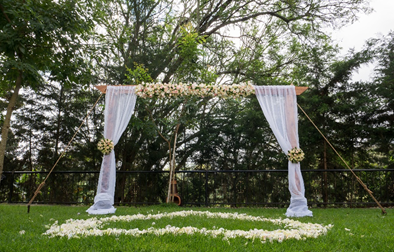 Your choice of colours affects the mood even before the ceremony itself starts, so choose right.
The Reception
The couple wanted a set up that could easily transition from an afternoon to night reception seamlessly. We had to consider how hot the afternoon would be and opted for a solid A-frame tent, otherwise they would have had lunch in a greenhouse 😊.
For the setup we went with a very dreamyyet simple layout that transformed in the night once the fairy and Parcanlights went on, giving the space a lovely glow to dance the night away.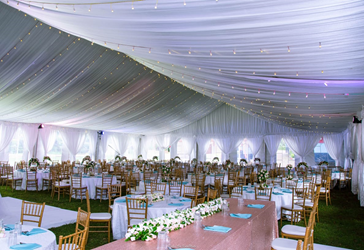 For table scapes, the mellow blush shade paired with an elegant circular floral centre piece that allowed the guest to see each other and interact, while the mint napkins added a pop of colour.
The expected number of guests was 350, and in all honesty, Kenyans know how to show up and show off when it comes to weddings… they didn't disappoint, we had an additional 200 guests.
**chuckles***.
Ain't no fountain high enough
What is an event without good old Murphy's Law right? Always throwing a twist to the plot, this particular one involved two plots.
Rain: – It rained cats and dogs the night before and a slight shower that morning delaying the ceremony.
A permanent fountain: – right at the centre of the space we planned to set up. I mean wow!
In hind sight we concluded that they were showers of blessings.
It ended up being such a fun challenge to navigate and it worked out great actually! It worked out for the night bit 😉.
Counting our blessings
If there is anything this coronisation period has taught us, it's to cherish the days when it was easy to see people smile, when we could easily waltz our ways into functions without worrying about the travel history of the guy seating next to you.
Until next time, stay safe, social distance and sanitise.