Client: Enashipai spa & Resort
Images courtesy of Kanyangi Kuria
Event type: New Year's Party
Theme: Cowboy
Hello hello, we hope you have been keeping well and safe in this quarantine period. The team in a bid to lighten up the mood decided to take some time to reminisce on the adventures that our clients and partners have allowed us to be part of and thought, hey! Why not tag you along on our adventure series 😊.
The last time we did a concept to reality blog, we put our trade secret out for the world to know …We don't take the honor to partner with you on your life time event for granted, here at Urban Live Events we not only deliver our concepts, but we go beyond the client's expectations.
First up is one of our Corporate clients. Enashipai resort and Spa, It has this home away from home feeling, coupled with efficient service plus we believe they host the most fun parties…The hotel Christmas theme was a Country Christmas and a cow boy themed new year party .
 (Trust me these guys know how to host a new year party. Highlight being their fireworks display, it is a site to behold!)
In this case we will focus on the new year party. A fun fact about this theme and concept wasn't only about the relatability that came with it but also the fact that majority of the elements and furniture used in this set up, were custom built to enhance the experience.
We had a blast curating and seeing it to life. Based on our visual concept, allow us to take you through our side by side concept vs reality showcase.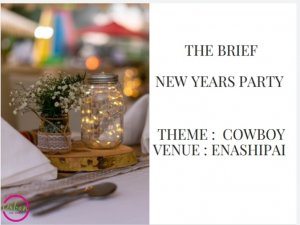 Some of the images from the rest of the set up:
Every corporate, private or intimate gathering needs a magical touch, this could be you… We take your fun seriously and look forward to engaging on how to make your concept a reality.
See you on our next adventure! 😉